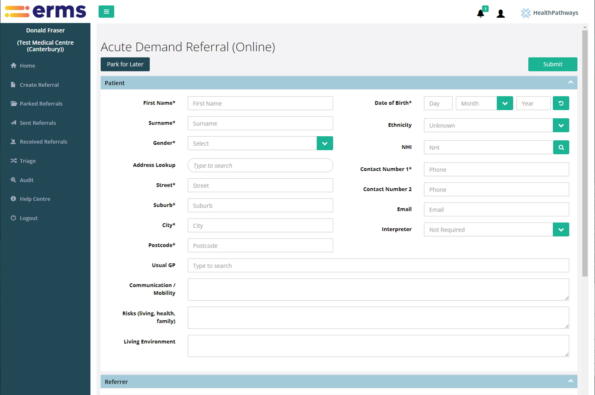 ERMS Online is a stand-alone web app.
You do not need a PMS to use it. All you need is an internet connection and an ERMS account and you can have access anywhere, with much the same functionality as those using ERMS GP and paying for a PMS.
ERMS Online started as a tool for small, community healthcare providers that did not want or could not afford a PMS and has evolved to become the future of ERMS.
Features
Allows you to send, receive, park and view referral history all from one platform
Integrates with clinical pathways.
Provides simple forms designed by general practitioners and specialists.
Allows requests to both public and private providers.
Delivers electronically to secondary care with confirmation of receipt.
Encourages new ways of delivering specialist care with a range of service request options.
Collects data on requests to assist service planning.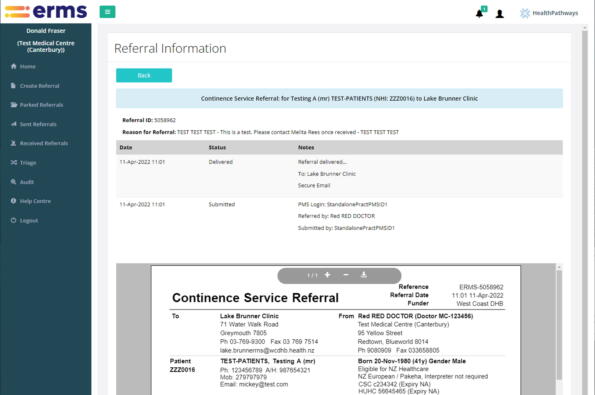 ERMS Online has much the same functionality as ERMS GP, which runs through a PMS
You can send, receive, triage, park and view your referral history all from one platform.
We are constantly innovating to create a better ERMS user experience. When ERMS Online is used in stand-alone mode it does not have access to your patient data*, so manual entry into the referral forms may be required. To help, we built an NHI Look-Up Service in ERMS Online to auto-populate the patient NHI/demographic/address fields and save precious clinical time.
*We are currently incorporating PMS integrations with ERMS Online with the first one launched in Q1 2022.
If you would like to learn more about ERMS GP, ERMS online
or book in a free demo reach out.