ERMS Service Provider Directory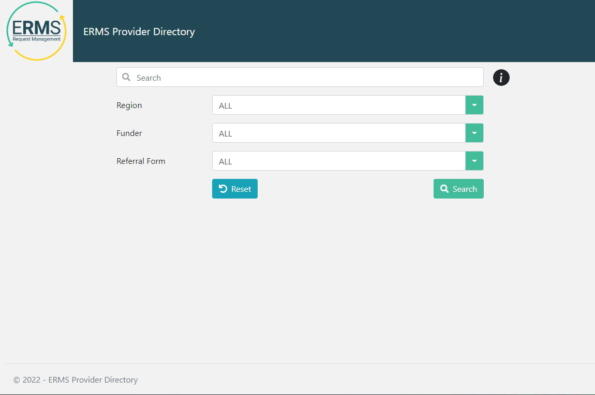 The ERMS Service Provider Directory provides the full listing of available service providers in ERMS for each region in response to a user search.
The ERMS Service Provider Directory includes:
Public health services
Private specialists
General practitioners with special skills (see the General Practice category in ERMS)
Primary Health Organisations (PHOs)
Allied Health providers
Community service providers, e.g. Green Prescription, non-governmental organizations (NGOs)
The ERMS Service Provider Directory provides advanced search functionality where a user can search with any keywords.
Users can limit or expand their search to their region or to within the South Island.
The funding options and service providers can also be used as filters to look for available referral types under those conditions.
The Provider Directory is a look-up service only and cannot be used to submit referrals.

How to use the Provider Directory
Select the relevant region or default to All


Select Referral Form or default to All


Select Funder or default to All


Use a keyword in the search bar that relates to a provider name, referral type or specialist's name. These search terms can also be used in any combinations, e.g. Hand, Oxford, Smith.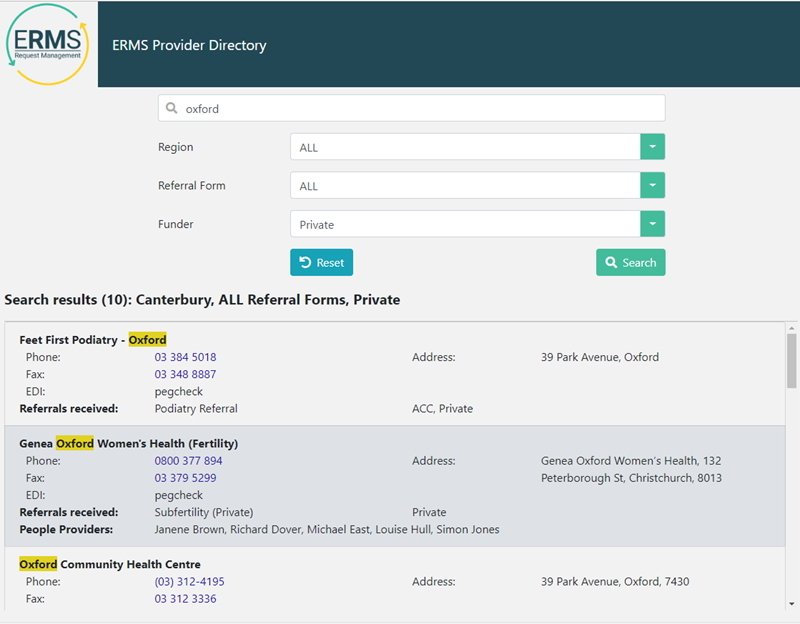 Requesting Changes to the Provider Directory
To suggest a change to the ERMS provider directory, complete the online form or click the Add a Provider link alongside the Service Provider selection field in ERMS:


Information for Service Providers
If your service receives requests/referrals from general practice and you're not listed on the ERMS Provider Directory, you can contact your local ERMS Service Desk to find out more.
Most services listed in ERMS use a standard request form.
Example – request form with standard fields
For services requiring specific referral information not compulsory on the standard form there are two options:
List referral requirements on HealthPathways. General practitioners are encouraged to check this before making their request.
Request the development of a service-specific ERMS form with customised information requirements.
The first option works well for most services and is recommended as the best way to get started because service-specific ERMS forms require time for development, review and approval.
The ERMS Service Provider Directory is refreshed daily with new services or referral‑type additions.
To find out more about ERMS referral options contact your local ERMS Service Desk with a brief overview of your service and examples of any existing referral forms.