ERMS Online | Registration Process
ERMS Online Registration Process
When you visit app.erms.health.nz, you can register for an account by selecting Register Now.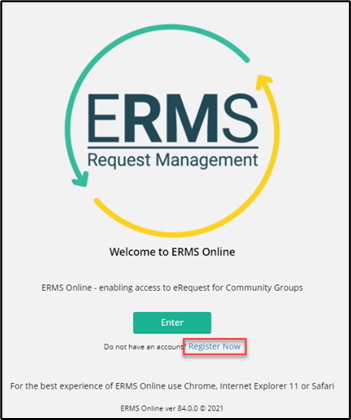 This will present you with two options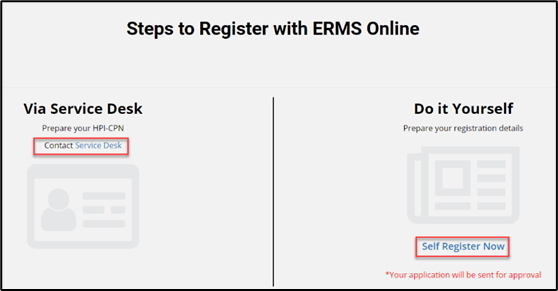 Registration Via Service Desk
Contact servicedesk@Pegasus.org.nz to request an ERMS Online User Access Deed form.
Complete the access deed form and send it to the address provided on the form.
You will need to provide the following details:
Name and contact details such as email and mobile/work phone number
The contact details of the facilities you work at (can be multiple)
Registration body, number and common person number (HPI-CPN) – this may be provided by your liaison officer.
You will then receive instructions and user credentials for accessing ERMS Online.
This will include a link to create your password for the first time.
Registration via Self Service Site
Selecting on the 'Self Register Now' icon will take you to the 'Self Service Registration Form'.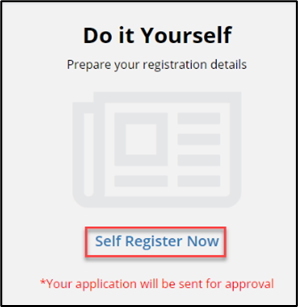 There are 4 main sections to add to your registration request.
Personal Details
Account Management
Facility / Organisation Details
Roles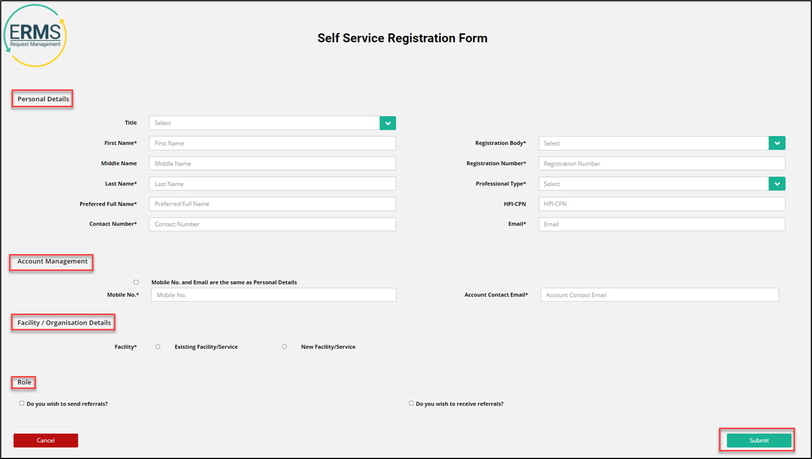 Personal Details
Fill in all mandatory fields
Registration Body e.g. 'New Zealand Psychologists Board'.
Registration Number e.g. '11111'.
Professional Type e.g. 'Hand Therapy'.
HPI-CPN (Optional) e.g. '10ABCD'.
Account Management
We need your Mobile Number and an Account Contact Email for account management.
e.g. password recovery etc.
Facility / Organisation Details
Existing Facility/Service

Select Region from the drop-down list e.g. Canterbury, Nelson Marlborough etc.
Select Facility from the existing facilities drop-down list e.g. 'Eye 2 Eye Optometry'.
New Facility/Service

Fill in all mandatory fields
Roles

Let us know if you want to send referrals, receive them, or both.
Then hit submit.
Upon successful submission, you will receive an email with the 'Application Number' and other supporting details.
ERMS Admin team will review your Registration Application.
Upon the 'Approval' or 'Decline' of your application, you will be notified by email.
A second email will be sent to you with 'Username' and a link to set your password.

Note:
-The link to create your password and activate your account for the first time, will expire in 24 hours.

-Presently, Self-Registration will automatically award your account with the ability to receive electronic Referrals via ERMS Online.