ERMS Online | Create Referral
From the ERMS Online Menu, you can select 'Create Referral'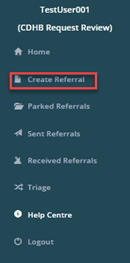 Select the relevant referral form from the list provided.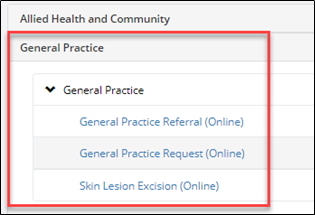 Once open, you will see that forms are made up of a few key sections.
Patient | For patient details.
Referrer | Who the referral is coming from.
Request | Standard referral details related to requested action & referral reason.
Clinical Details | An area to add extra information.
Attachments | For additional relevant documents.
Note: Some forms may have additional sections
Patient
Enter the patient details in the form.
The required fields are marked with an asterisk *.
If you enter the patient's first name, surname and Date of Birth, you can use the NHI Look Up to auto-populate other details.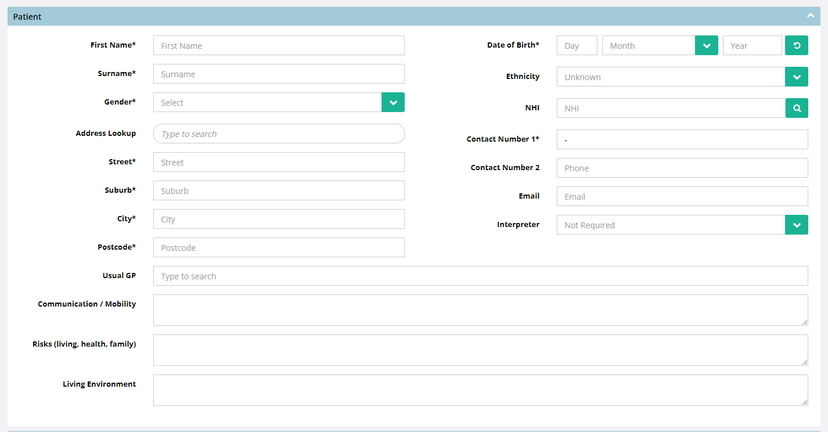 Referrer
The referrer section will default to your details.
If your details are incorrect, use the Pencil icon to update them.
You can refer on behalf of a clinical user by using the drop-down list. See Referred by page for more detail.



Request
The request section is important to make sure your referral goes to the right place and that the person receiving the referral knows what they need to do.
Here, enter the Region, Funder, Service Provider, Requested Action, Requested Priority and the Reason for the referral. The Attn To field is optional and can take about 200 characters.



Clinical Details
An area to add extra information.



Attachments
For additional relevant documents.
Each image file cannot exceed 5 MB
Each PDF file cannot exceed 1 MB and no more than 10 pages

If you find you don't have time to finish a referral, you can Park for Later, to save your draft.
Once you've finished filling in the form, go ahead and hit Submit.